Getting Started with TCPA Guardian
10 Aug 2023

2 Minutes to read
Getting Started with TCPA Guardian
Updated on 10 Aug 2023

2 Minutes to read
---
Share feedback
Thanks for sharing your feedback!
Let's get started! In this article, we'll walk through all of the steps for utilizing TCPA Guardian.
Step 1: Sign up for a Jornaya Member Portal Account
Not sure what to choose? Contact our team and we'll be happy to help: [email protected]

Once our support team approves your account, you will receive an email that will provide you with further details on how to access the Jornaya Member Portal.
Account approval typically takes 1-3 business days. After signing up for an account please be sure to check your spam/junk folder if you do not receive a confirmation email in your inbox.
Step 2: Set Flag Settings for Compliance in Your Audit Profiles
The API response for TCPA Guardian will include various data points including Prominence, Contrast, Visibility, Consent Type, Visual Playback Capture/Storage. You will need to determine what values meet your compliance standards for each data point.
You can set your Green/Yellow/Red flag settings in each of your Audit Profiles in the Jornaya Member Portal (example default settings for Visibility below).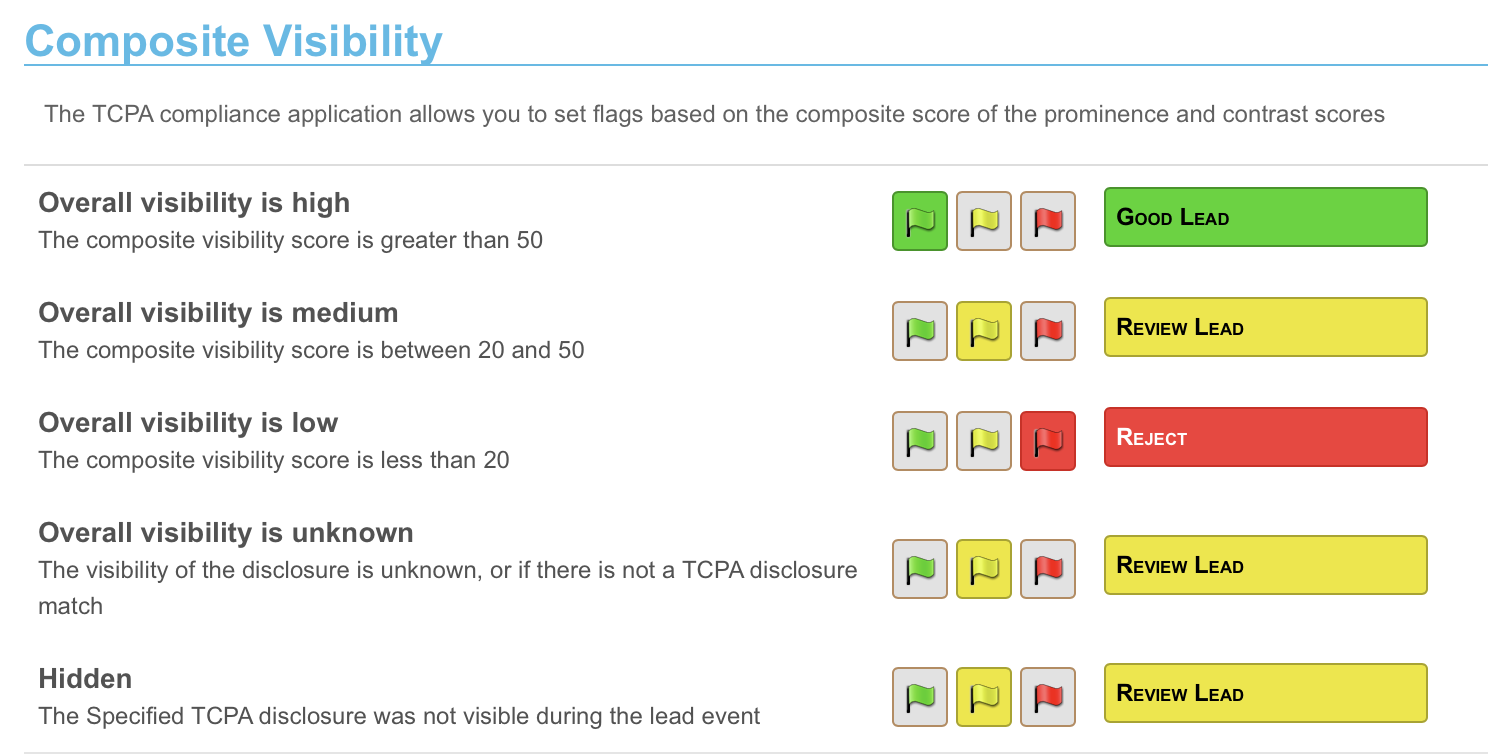 Step 3: Add Approved TCPA Disclosures

After reviewing disclosures from your providers, you will add all approved disclosures in your Audit Profiles in the Jornaya Member Portal. Below is a quick walkthrough video of the steps:
Step 4: Capture LeadID Tokens from Providers
Store LeadiDs: set a field within your LMS/CRM to store a 36 character alphanumeric value (known as the LeadiD token or Universal LeadiD). We commonly recommend "universal_leadid".
Step 5: Implement API Calls to receive real-time TCPA Guardian data responses
As you receive LeadIDs from your lead providers, you will need to implement an API call to receive the TCPA Guardian data points for each LeadID. You can reference this article for specifications on the API call and the available data points/response values that you can expect.
Step 6: Monitor Compliance in Reporting

As a subscriber to TCPA Guardian, you will receive weekly emails that help you monitor compliance for your lead program. Your Customer Success Manager will make sure you are subscribed to relevant TCPA monitoring reports such as the TCPA Compliance Adoption Report, Compliance Monitoring Summary Report, and Compliance Lead Detail Report.

When non-compliant leads are encountered, 'Next Steps' should be to:
Review TCPA Guardian settings to identify which Data Point values will produce a 'red' flag
Review the TCPA Compliance Lead Detail Report
Identify the key segments (data point, provider, lead type) showing high volumes of non-compliant leads
Contact the Provider with a summary of the issue & lead-level details in order to mutually rectify
Include your Jornaya Customer Success Manager to answer any follow-up questions
Step 7: Requesting Compliance Reports & Visual Playbacks

In the event of a complaint, you can provide compelling proof of consent by quickly obtaining a Compliance Report that includes a detailed summary of the lead event as well as contact disclosures presented to the consumer which are witnessed by Jornaya.

TCPA Guardian customers can easily request and access Compliance Reports with Visual Playbacks in myJornaya. Below is a video walkthrough of the process of requesting the Compliance Report.









---
Was this article helpful?
---
What's Next